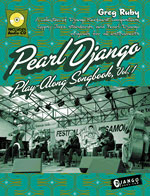 By Greg Ruby
Order exclusively through Djangobooks.com $30
This songbook contains Django Reinhardt compositions, Gypsy jazz standards, and Pearl Django originals for instrumentalists of any skill level. The easy-to-read standard notation, guitar tablature, and chord diagrams will allow beginning students to quickly learn the core Gypsy jazz repertoire. More advanced students will benefit from the carefully notated intros and outros, melodic embellishments, advanced chord voicings, and harmony parts. The accompanying play-along audio CD will allow you to practice your own solos with the Pearl Django rhythm section.

PDF Samples:
Djangology New Metropolitan Swing Avalon
This 82-page book and CD includes:
Seventeen accurate transcriptions of melodies, harmonies, and chords for Django Reinhardt compositions, Gypsy jazz standards, and Pearl Django originals: Avalon, Blues en mineur, Djangology, I'll See You in My Dreams, I've Found a New Baby, Le Rive Gauche, Limehouse Blues, Manoir des mes Reves, Minor Swing, My Blue Heaven, New Metropolitan Swing, Nuages, Plum Crumble, Radio City Rhythm, Swing 42, Troublant Bolero, and Zingarelli.
Two chord-melody arrangements by Dudley Hill.
Transcriptions in both standard notation and tablature (guitar chord diagrams included).
Fingerings and chord voicings as played by Pearl Django.
Guitar, violin, and accordion parts.
Examples of Gypsy-style swing, Latin, and folk accompaniment.
Easy-to-read Real Book style format suitable for sight reading on the gig.
An audio CD with seventeen play-along tracks compiled from the Pearl Django CDs Under Paris Skies, Avalon, and Souvenirs.
A play-along version of a previously unreleased Pearl Django recording of Djangology.
Pearl Django history and discography.
Extra sturdy binding and heavy coated paper. This book can withstand years of on-the-gig punishment!