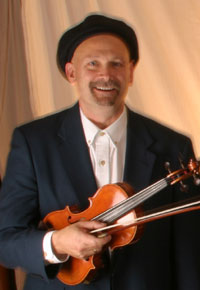 Michael Gray – Violin
Initially a self-taught instrumentalist, Michael learned to play violin while homesteading in Alaska. He acquired a music degree from University of Alaska, Anchorage. Michael is originally from Philadelphia. Since moving to the Puget Sound area, he has kept busy performing and recording with groups including Highwire, Grass Backwards, Quo ad Hoc, Point No Point and Odd Men Out. Michael is an accomplished composer and has recently worked part-time teaching positions at Cornish College and the University of Washington.
Photo by Jim Mercure.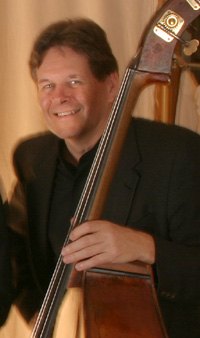 Rick Leppanen – Double Bass and composer
A native of Marquette, Michigan, Rick has a degree in mathematics and a minor in music from Northern Michigan University. His playing experience includes rock (he started as a rock 'n' roll guitarist at age 17), country, and jazz bands. He has been a jazz educator, teaching in the Marquette public schools under a grant from the NEA and Michigan Council for the Arts, and also taught at the Michigan Tech. Summer Youth Program for seven years. He has toured nationally with show groups, and since 1985 he has freelanced as a jazz bassist in the Seattle area. Rick recorded with the group Room to Move, with blues guitarist Eric Madis, and others, and has been a member of Pearl Django since June 1998.
Photo by Jim Mercure.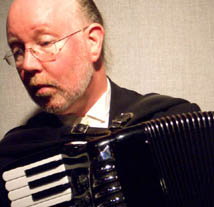 David Lange – Accordion
David Lange has been an unofficial member of Pearl Django since the group's inception. He has been the recording engineer and co-producer of all of the Pearl Django CDs. David's fine accordion playing can be heard on all but the first two Pearl Django CDs. He is a well-respected and in-demand recording engineer and for the last 40 years has worked with and recorded top musicians at his studios (David Lange Studios) in Edgewood, Washington. In 2007 he was persuaded to return to his first love and make time to play the music he loves with Pearl Django. Since joining Pearl Django, David has released two fabulous CDs under his own name.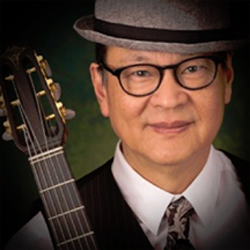 Jim Char – Guitar
Born and raised in Hawaii, Jim Char has worked as a professional musician for 40 years. After his move to LA, in the early 1980s, Jim graduated from Guitar Institute of Technology (GIT) in '82, followed by years in on the road touring the West Coast from California to Alaska.

While Jim's musical background was built upon Rock, Funk, R&B, Pop, Swing, and Jazz, his ultimate musical passion is for the Gypsy-Jazz music made famous by Django Reinhardt and the legendary Hot Club of Paris. Jim's love of the genre was sparked years ago by a chance visit to Tacoma's The Swiss Restaurant & Pub, where Pearl Django happened to be performing. Their infectious rhythm left a lasting impression on Jim, and launched his journey into Gypsy Jazz that continues to this day.

Jim has made name for himself in the local jazz scene, performing at the 2016 Djangofest Northwest, and the international Gypsy Jazz scene, traveling to Paris and Samois, France to pay homage to Django and playing music with some of the finest Gypsy jazzers in the world. Jim also teaches the Gypsy Jazz and Swing workshops at the Wintergrass Festival in Bellevue, WA. Jim is also founder of the Hot Club of Seattle, where Jim plays guitar and sings, performing songs from the Great American Songbook.

In addition to his work as a guitarist, Jim teaches public school Choir and Drama, holds a Master's Degree in Arts and Education, and currently has 30 years tenure as an Educator.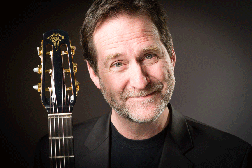 Tim Lerch – Guitar
Tim has been a respected guitarist and instructor in the Seattle area for a number of years. While Tim is perhaps, best known for his jazz and blues playing, he is quick to adapt to the gypsy jazz style. He is the consumate guitar student and for that reason has become an excellent, sought after, guitar teacher. Tim joined Pearl Django in January, 2016. He can be reached via his web site, TimLerch.
PEARL DJANGO EMERITUS: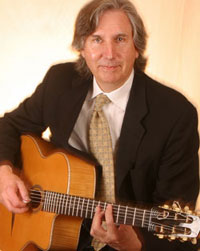 Neil Andersson – Guitar
Neil's first instrument was violin, but he became enamored with guitar in high school and formed several dance bands. In 1964 he joined the well-known Northwest group, the Fabulous Wailers. On his journey toward being a jazz guitarist, he continued doing session work and playing in rock groups, recording for United Artists, Janus Records, Etiquette Records, and Riverton Records. In 1986 he was inducted into the Northwest Music Awards 'Hall of Fame.'
Paralleling his music career is his career as a visual artist. He received his Master of Fine Arts in painting and drawing from the School of the Art Institute of Chicago, and holds undergraduate degrees from the University of Washington and the University of Puget Sound. He has been featured in exhibitions in the Pacific Northwest, British Columbia, Indiana, and Illinois. His paintings and drawings can be seen on his web site, NeilAndersson.com.
In addition to his activities as a producing visual and recording artist he has been an educator, teaching visual art part-time at Pierce College, The University of Puget Sound, Tacoma Community College and Highline Community College. He taught full-time for seven years in both visual and performing arts at the Puyallup Tribe of Indians' Chief Leschi School.
In 1993 he began a collaboration with Dudley Hill that led to the formation of Pearl Django. In 2003 Neil released his first solo CD, C'est si bon, on Modern Hot Records. He continues his interest in painting, studying the music of Django Reinhardt and recording and performing with Pearl Django. Neil plays guitars by Shelley D. Park, Selmer (1946, #596) and Busato (1940s). He uses Savarez Argentine and Dell' Arte strings, and picks by Michel Wegen. Photo by Jim Mercure.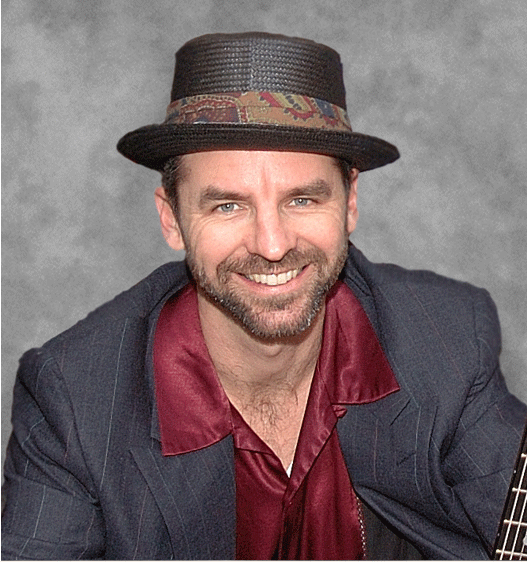 Ryan Hoffman – Guitar
Originally from Kansas City, Ryan has called Seattle home for over 15 years. He's been a working guitarist since he was a teenager and has been playing and performing Gypsy swing for over seven years. He had the good fortune to be able to study the style with excellent guitarists, Fapy Lafertin and Samy Daussat during an extended stay in Europe. He has performed on stage with well known musicians such as Robin Nolan, Howard Alden, Andreas Oberg, and Ken Peplowski and shared the jam stage with Samy Daussat, Angelo Debarre, Sebastien Giniaux, David Reinhardt, Noe Reinhardt, and Pere Soto. He is also a founding member of the popular Seattle swing band Zazou. In addition to performing as much as he can, Ryan teaches privately and gives workshops. More information is available at RyanHoffmanMusic.com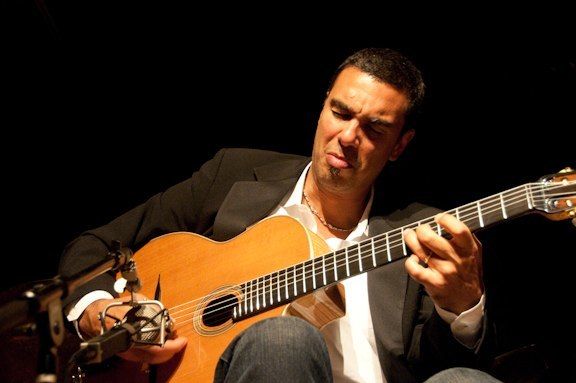 Troy Chapman – Guitar
Troy officially replaced Neil Andersson on May 1, 2010. He is a recently retired air traffic controller. Troy founded Billet-Deux with guitarist Steve Kirk in 2002. He majored in jazz guitar performance at Concordia University in Montreal and at the American Conservatory of Music in Chicago. He spent 20 years in the Chicago music scene playing with numerous ensembles including the Lee Roland Orchestra (Big Band), the Neophonic Orchestra, and Something Orange. After moving to Whidbey Island in 2001, Troy renewed his lifelong interest in Django Reinhardt and has, since, become one of the leading North American gypsy jazz guitarists. He also pursues his passion for straight-ahead jazz with his own trio. He splits his time between Whidbey Island and Seattle.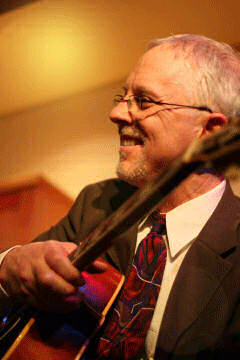 Ron Peters – Guitar

Originally from Los Angeles, Ron was raised on rockS┐n?roll and blues. Soon discovering jazz guitar he became enamored with Wes Montgomery, Joe Pass, Johnny Smith and others. It was through Joe Pass that he first heard of Django Reinhardt and after seeking some recordings, became fascinated with the gypsy master. Ron went on to study at Berklee College of Music in Boston. A busy educator, Ron teaches privately and has held faculty positions at Seattle Pacific Univ, Berklee and at music camps in the US and Canada. Performance credits include the Manhattan Transfer, the Don Ellis Big Band, Edmonia Jarrett, Chevy Chase, The Brian Butler Band. He currently lives in Seattle where he is in demand for recordings and performances. ronpetersguitar.com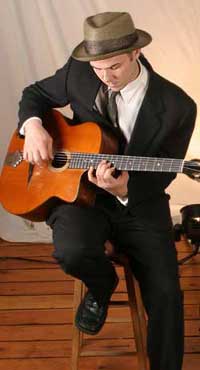 Greg Ruby – Guitar


We regret to announce that after five years as rhythm guitarist for Pearl Django, Greg has left the group to pursue other musical interests. You will be able to keep up with his performances, book releases, private guitar lessons and workshop schedule by joining his email list at gregrubymusic.com. Look for his up-coming gypsy jazz play-along book, Oscar Aleman Play-Along Vol.1, and online lessons available soon through Djangobooks.com. Be sure to catch him playing with the fiery Hot Jazz string band, Hot Club Sandwich



- - - - - - -


Greg Ruby began playing the music of Django Reinhardt while travelling the country and working as a street performer. After settling in Seattle, he found himself in the midst of the Northwest Gypsy jazz scene. As the rhythm guitarist for Pearl Django, he has traveled throughout the United States and Europe and has appeared on three of the band's recordings; Under Paris Skies, Swing 48 and Chasing Shadows. Greg holds a Bachelor of Music in jazz studies from Cornish College of the Arts and teaches guitar in the Seattle area. In 2003, he created the Pearl Django Play-Along Songbook published through Djangobooks.com.

Photo by Jim Mercure.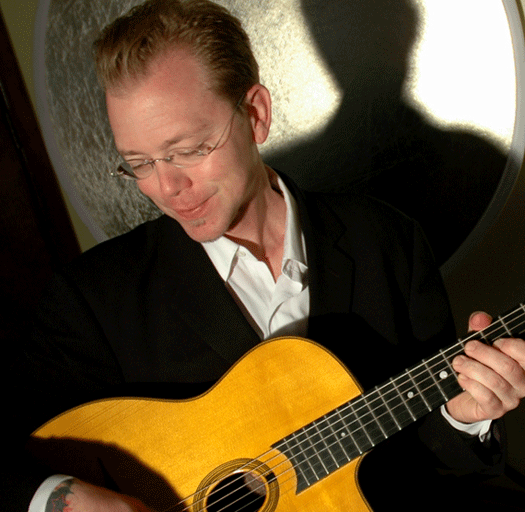 Pete Krebs – Guitar
Pete Krebs first began playing guitar at age 11, greatly influenced by Brian Setzer and Tom Verlaine. As guitarist/vocalist/songwriter in a series of rock n' roll bands, Pete toured extensively around the United States, Canada and Europe and worked with artists including Nirvana, Elliott Smith and the Holy Modal Rounders. He was the principal songwriter on a dozen albums in the rock and folk genre. His love of the music of Django Reinhardt redirected his musical passions towards jazz, and over the last decade he has pursued these interests keenly, studying privately both in Europe and the United States and sharing the stage with Pearl Django, Robin Nolan, Patrick Saussois and Andreas Oberg. He is an in-demand teacher, recording artist and performer, and lives in Portland, Oregon. heypetekrebs.com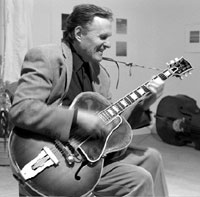 Dudley Hill – Guitar (1948 - 2005)
From Tacoma, Washington, Dudley Hill has always been at home on the acoustic guitar, with his first recording being a collection of American fiddle tunes, entitled From a Northern Family. Dudley was a founding member of Pearl Django, helped shape the sound of the band, and contributed a number of fine compositions to the Pearl Django repertoire. Dudley retired from Pearl Django in 2004 for health reasons. In January 2005 Dudley lost his long, hard fought battle with cancer. Dudley was a wonderful artist and human being and will be missed by all of us. You can read the obituary from the Seattle Times by clicking HERE and from the Tacoma News Tribune by clicking HERE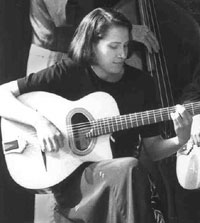 Shelley D. Park – Guitar
Born in Winnipeg, Park moved to Vancouver to pursue her career as a guitar builder. (Pearl Django performs and records primarily on Park guitars.) Shelley has been featured in articles in Acoustic Guitar magazine on several occasions. She has worked with several of Vancouver's Hot Club bands and played rhythm guitar on a Bob Brozman album. She left Pearl Django in 2001 devote her time to lutherie. Visit Shelley's web site at ParkGuitars.com.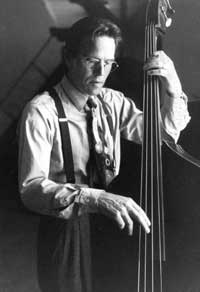 David "Pope" Firman – Double Bass
Pope began playing electric bass in a Southern Californian high school blues band and performed and recorded around L.A. and South California for the next 20 years. In 1993 he met Neil and Dudley, and the following year joined them in a Hot Club style band. Pearl Django (named by Pope's wife, Nancy) performed for six months as a trio in restaurants and coffee shops in Tacoma until building up to today's larger format. Pope performed on the first three Pearl Django CDs as well as two CDs the band recorded with England's Djangophile, Ian Cruickshank. Pope left the Northwest in 1998 and moved to Kansas City, Missouri. He currently plays jump blues with a band called AnnaLee and the Lucky So-n-Sos. Pope has recorded with Ben Harper on Virgin Records, Rank Strangers on Pacific Arts Records and Pearl Django on Modern Hot Records and Fret Records. He has performed with Juice Newton, The Lennon Brothers and Cold Blood and toured with The New Christy Minstrels, The Fleetwoods and Rank Strangers.