NOTE: Please, please, please use information on our PROMO, BIO, PRESS INFO page for promotional purposes, press releases and advertising purposes!
Pearl Django is Michael Gray, violin; Tim Lerch, guitar; Jim Char, guitar; David Lange, accordion; and Rick Leppanen, acoustic bass.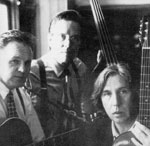 Pearl Django was formed in 1994 by Neil Andersson, Dudley Hill and David "Pope" Firman, however the roots of the band go back further. Neil, formerly of the Wailers, and Dudley had been playing blues and jazz as a duo together for close to four years before Pope joined and completed the early incarnation of Pearl Django. In 1995 luthier and guitarist Michael Dunn arranged for Pearl Django to go up to Vancouver for a performance and workshop. While there the trio met Shelley Park, a former lutherie student of Dunn's and rhythm guitarist with Michael's Hot Club of Mars. Shortly thereafter, she became a member of Pearl Django and her steady, pulsating rhythm guitar combined with Pope's bass completed the band's well-rounded and highly rhythmic ensemble. Both Neil and Shelley played Shelley D. Park guitars in Pearl Django.
In 1995 Pearl Django recorded their debut album Le Jazz Hot (now out of print) . In June 1996, Neil, Dudley and Shelley headed over to the famed Django Reinhardt Festival in Samois-Sur-Seine, the town where Django spent the last part of his life. The festival acts as a meeting place for Reinhardt fans the world over and bringing your instrument is no lighthearted affair! Some of the best Gypsy players in the world can be seen there and the level of musicianship is frighteningly high. While not a part of the festival proper, Neil, Dudley and Shelley hit some of the many jam sessions around town and were well-received by many of the fans and players of Gypsy Jazz. With interviews and articles in Just Jazz Guitar and Vintage Guitar magazines, word about Pearl Django began to spread.
In 1996 Pearl Django released the follow up to Le Jazz Hot. With the addition of the lush and melodic playing of Michael Gray on violin, New Metropolitan Swing received glowing reviews from the press and strong air play on KPLU-88.5 FM (now KNKX), the Pacific Northwest's all jazz radio station. Just Jazz Guitar's Andy MacKenzie wrote of New Metropolitan Swing, "This is Pearl Django's best yet and should reinforce their position of not just one of America's best 'post Django' bands, but one of the worlds best!" Also, in August of 1996, violinist Michael Gray joined the band bringing a variety of musical influences with him. Michael is both a fan and perennial student of Stephane Grappelli's music.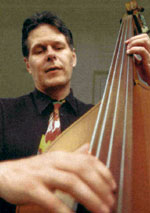 In July of 1998, Pope left the group to move to Kansas City. Bassist Rick Leppanen took his place, bringing a solid sense of swing and a strong jazz background. January 1999 brought the release of Mystery Pacific, and with that CD Pearl Django solidified it's reputation as one of the most versatile and rhythmically compelling acoustic groups playing today.
Early in 1999, Pearl Django began recording a tribute to Stephane Grappelli, a project produced by Michael Gray. The CD Souvenirs was released in May 1999 and included two tracks on which Michael was joined by the piano trio New Stories, and another track with guitarist Paul Sawyer and percussionist Will Dowd.
In August of 1999, Pearl Django Incorporated its own record label, Modern Hot Records, and immediately signed with City Hall Records, for national distribution.
Pearl Django's fifth CD, Avalon, was recorded during the summer of 2000 and released on October 1, 2000 to rave reviews. The band followed up with national radio promotion in January and February, 2001 and achieved the Gavin Jazz chart's top-forty status for seven weeks. Also, on March 29 & 30, National Public Radio recorded an interview and performance of Pearl Django for airing on All Things Considered on May 16, 2001.
In August 2001 Pearl Django performed at the first Django festival in Iceland along with the Robin Nolan Trio from Amsterdam. On October 5 & 6, 2001 Pearl Django was again joined by the Robin Nolan Trio to initiate the first Django Fest Northwest on Whidbey Island. The festival was a great success and will be continued and expanded. At that time, Shelley bid farewell to the band to pursue, full time, her guitar building profession. She will be missed.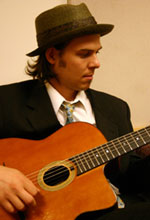 In February 2002, the sixth Pearl Django CD was recorded and mixed. Titled Under Paris Skies, this CD contains 16 tunes including seven band originals. Once again Pearl Django enlisted the aid and expertise of David Lange in the capacity of engineer, co-producer and accordionist. The CD cover and artwork was created by ex-Pearl Django bassist David "Pope" Firman. Guitarist Greg Ruby performed on four of the tracks of the new CD, and in March, Greg officially joined Pearl Django filling the position previously held by Shelley. Greg is also a member of Hot Club Sandwich. In June 2002 Pearl Django performed at the Festival Django Reinhardt at Samois sur Seine, France. That was followed by a second trip to France to perform at "les rendezvous de l'erdre" in Nantes, France in late August.
October 2003 brought the release of two CDs on Modern Hot Records. Guitarist Neil Andersson released his first solo endeavor, titled C'est si bon. This CD includes Rick Leppanen on bass, Chris Monroe on drums, and features Susan Pascal on vibes and Mike Jaap on piano. Pearl Django released Swing 48, their seventh CD. This is the first Pearl Django CD to contain at least one composition by each band member. In May, 2005 Pearl Django released Chasing Shadows, which is their eighth CD.

Guitarist Greg Ruby left the band in February of 2007 and accordionist, David Lange joined. In June of 2007 Ryan Hoffman became the new rhythm guitarist and Pearl Django released CD number 9 Modern Times in June, 2007. Music samples of all Pearl Django CDs are on our CDs page.
The year 2010 brought on more changes for Pearl Django, as well as, some new releases. Founding member, Neil Andersson, resigned from Pearl Django to pursue music on a more leisurely basis and to allow more time for painting. Neil was replaced by guitarist, Troy Chapman. Troy lives on Whidbey Island and is very familiar with hot club music. Troy joined in time to be included on Pearl Django's tenth release, a CD titled, Systeme D. About the same time we released a compilation of tunes from the first four band releases which are all out of print. The CD is titled Hotel New Yorker. The group continued to grow and to add to the list of original tunes as every member contributed music to our book.
Our eleventh CD, cleverly titled, Eleven was released in 2012 and our twelfth CD was released in 2015 with the title, Time Flies. Both of these CDs emphasize the writing (composing) skills of the band members. Also, as a bonus, the fabulous guitarist, Martin Taylor, was a guest on Eleven.

2016 brought a couple of changes to the Pearl Django line up. Both Ryan and Troy have left the group. Neil Andersson returned and is joined, in the guitar section, with the incredible, Tim Lerch. With old and new blood in the band, we headed back to the studio. With Friends Like These was released in March of 2017 and was the first recording with all original compostions. Unfortunately, Neil then moved to California. Fortuanately, guitarist, Jim Char let be known that he was available and joined in early 2017.

In August, 2018, we were fortunate enough to have been recorded live at our Orcas Island concert. David Lange was able to shape this into Pearl Django's first "Live" CD released (February, 2019). In 2019 we are celebrating 25 years of Pearl Django