For picture downloads: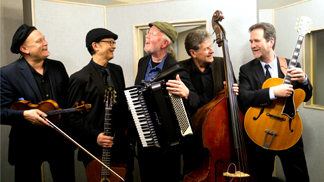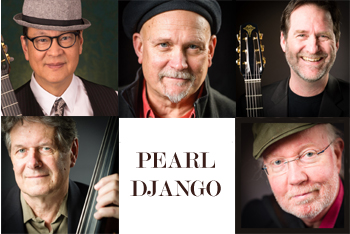 Click here for a 7.5 x 5 print jpg of image at top-right:

Click here for a 7.5 x 5 print jpg of image at lower-right:

Click here for a Pearl Django quartet printable jpg

Here's a download of the text below.
New videos of Pearl Django are now available on YouTube:
Pearl Django Video Channel These were recorded live at David Lange Studios.
With a performance history spanning more than 27 years and having released 15 CDs, Pearl Django endures as one of the most highly regarded Hot Club style groups working today. Although the band's roots are firmly in the music made famous by Django Reinhardt and Stephane Grappelli, its extensive repertoire includes traditional jazz classics and original compositions. Pearl Django has performed at festivals, dances and nightspots throughout the U.S. and abroad. They have played at the prestigious Festival Django Reinhardt in Samois sur Seine and have been featured on NPR's "All Things Considered." The band's signature style is marked by pristine and dexterous string work, colors of Bal Musette, the steady pulse of rhythm guitar and an unmistakable swing that delights audiences of all musical sensibilities. Throughout the years, Pearl Django has cultivated a devoted and enthusiastic following and they continue to play to packed houses wherever they perform.

Received the 'Earshot' Golden Ear Award for "Northwest Acoustic Jazz Ensemble of the Year" 2018

Voted Favorite Area Jazz Band 2003
by Seattle Weekly readers!
"Pearl Django play(s) gypsy jazz…and they do it with such verve, skill and pleasure that
they're pretty much irresistible to jazz and non-jazz listeners alike."
—Seattle Weekly

"Pearl Django: The gypsy jazz of Django Reinhardt done to perfection!"
—Paul de Barros, The Seattle Times (2002)
Members
Tim Lerch, Guitar; Jim Char, Guitar; David Lange, Accordion; Michael Gray, Violin; Rick Leppanen, Bass

Background: (very brief)
The group's inception was as a trio in Tacoma, Washington in 1994. The focus of Pearl Django was, and is, to incorporate the music of Django Reinhardt and Stephane Grappelli with American swing music. They quickly expanded to a quintet, adding a violinist and a third guitarist. An interview on NPR's All Things Considered in 2001 brought the group to national attention. In June 2002, Pearl Django performed at the prestigious Festival Django Reinhardt in Samois sur Seine, just outside of Paris, France. As of 2007 Pearl Django is working as both a quartet and a quintet (with accordionist, David Lange) All of the members are contributing original compositions to the band's expansive repertoire. They have released 15 CDs to date."If Paris is the city of love, then Pearl Django's music is the flirtatious accompaniment."
—6Moons.com (review of Under Paris Skies)

Performance Highlights
Along the West coast, Pearl Django has performed from Los Angeles to Fairbanks. Festival performances include: Festival Django Reinhardt, Samois sur Seine, France; les Rendez-Vous de l'Erdre, Nantes, France; Sacramento Jazz Jubilee; Django Festival Iceland; Django Fest Northwest, Whidbey Island, Washington; Django Fest LA, Laguna Beach, California; Django Fest SF, Redwood City & Mill Valley, California; Juneau Folk Festival, Juneau, Alaska; Capital City Jazz Festival, Madison, Wisconsin; Sweet and Hot Festival, Los Angeles, California; Great Connecticut Jazz Festival, Guilford, Connecticut; Mission Folk Festival, Mission B.C.; Bumbershoot & Folklife Festival, Seattle, Washington; Wintergrass (a bluegrass festival) Washington, Jazz Alley, Seattle, Washington; Sun Valley Jazz Jubilee, Sun Valley, Idaho.
More Pearl Django credits
Pearl Django music has been placed in two movies: "Road to the Open" and "Meet the Patels"
Pearl Django music has been placed in two NBC primetime television shows: "Parks and Rec" and "Undercovers"
Pearl Django tracks have been placed on numerous compilation CDs including those released by: Pier One, Williams Sonoma and Putumayo (Jazz Café)
And, our music is used on numerous web sites and videos (not all have our permission)
Pearl Django has had the honor of performing with some of the great jazz artists of our time.
The list includes: Bucky Pizzarelli, Martin Taylor, Frank Vignola, Larry Coryell, Andres Oberg, Robin Nolan, Howard Alden, Darol Anger, Ken Peploski, Connie Evingson, Greta Matassa and Gail Pettis.
Discography
Simplicity – 2020 (all original compositions)
Pearl Django Live – 2018 - Our only live CD release
With Friends Like These; – 2017 (all original compositions)
Time Flies – 2015
Eleven – 2012
Systeme D – 2010
Hotel New Yorker – 2010 (a compilation from our first four CDs (out of print)
Modern Times—2007
Chasing Shadows— 2005
Swing 48 — 2003
Under Paris Skies — 2002
Avalon – 2000 (over 18,000 copies sold)
Souvenirs – 1999 - Out of print, but available as a download
Mystery Pacific – 1999 - Out of print, but available as a download
New Metropolitan Swing – 1997 - Out of print, but available as a download
Le Jazz Hot – 1995 - Out of print


Contacts:

For Booking Pearl Django:
Michael Gray
4418 Sixth Avenue NW, Seattle, WA 98107
206-781-1862
graywhit@msn.com

For Modern Hot Records:
Rick Leppanen
9247 34th Avenue SW, Seattle, WA 98126
206-932-1448
orders@pearldjango.com