CURRENT MEMBERS: Jim Char, guitar; Michael Gray, violin; David Lange, accordion;
Tim Lerch, guitar; Rick Leppanen, bass
Welcome to the web home of Pearl Django and Modern Hot Records. Please look around.
Most recent Calendar update: * * * October 22, 2023 * * *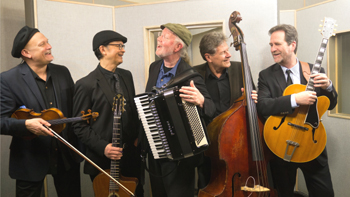 Videos of Pearl Django are now available on our new Video page, as well as the Pearl Django Video Channel on YouTube. These were recorded live at David Lange Studios.
Like us on Facebook:
Pearl Django
Our latest CD, Simplicity,
is now available everywhere. This is our 15th release, and it contains 11 wonderful compositions, penned by band members.
Upcoming performances: Here are opportunities to hear Pearl Django. Visit our Calendar Page for details.
For contact information or to SUBSCRIBE TO OUR MAILING LIST: click HERE

Thanks for visiting!